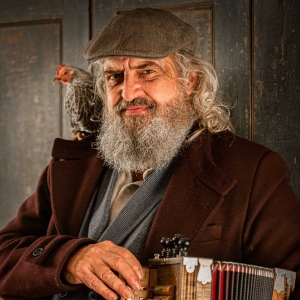 September 3rd 2022
8PM | Scène Québecor
Yves Lambert with Bon Débarras
Yves Lambert, well known as an ambassador for the traditional music of Québec, welcomes guest Bon Débarras (winner of a Félix for Best Trad Album 2021) for a one-of-a-kind show that takes on topics as primordial today as they were in bygone times. Together, they offer up a rich musical experience featuring a rich and firmly-rooted repertoire of songs, tunes, and time-honoured tales. Fifty years of performances, vices, and temptations come vibrantly alive in song and dance in the form of Yves Lambert and company!
BIOGRAPHY
In 1976, Yves Lambert co-founded the now-legendary Québécois band La Bottine Souriante with friends André Marchand and Mario Forest. He remained the figurehead of the group until 2003, along the way recording 11 albums that sold 800,000 copies, including three that went platinum and four "disques d'or" (gold). By the 1980s, La Bottine had become one of Québec's primary cultural ambassadors, touring across Europe and North America. Their presence on the world stage garnered interest from major players, including label EMI, who signed them for the international market. As a member of La Bottine, Lambert appeared in countless concerts, tours, television and radio broadcasts and was the recipient of numerous awards, including six Félix awards (Québec "Grammy"), three Junos (Canada) and prestigious BBC awards, among others. Twenty-six years as the frontman of La Bottine Souriante firmly establshed Lambert as an icon of Québec trad music.
In 2004, Lambert created the Bébert Orchestra (Bébert is his nickname) with a hand-picked crew of young trad musicians. Together, they released "Récidive", an album that was praised by critics and earned a Félix for Album Traditional of the Year at the 2005 ADISQ awards. With a second album "Le Monde à Lambert", the Bébert Orchestra went on to win Group of the Year at the 2008 Canadian Folk Music Awards and that same year, presented a new work by contemporary composer Denis Gougeon in company with the Montréal Symphony under the direction of famed conductor Kent Nagano. In 2009, the group released "Bal à l'huile" which explored traditional music through interpretations by singers from different musical genres, including a popular retake of "L'ivrogne et le pénitent" as a powerhouse duet with Québec rocker Éric Lapointe. The album earned Lambert an award for Singer of the Year at the 2010 Canadian Folk Music Awards.
During the summer of 2010, Lambert and his mutli-instrumental accomplices Olivier Rondeau and Tommy Gauthier decided to form a trio for a tour of eastern Québec. The experiment was a success, and the Yves Lambert Trio was born. Their subsequent recordings "Yves Lambert Trio" and "Laissez courir les chiens" (let the dogs loose) both garnered Félix awards for Trad Album of the Year in 2013 and 2017, respectively. The complicity and artistry of these three musicians has brought them much attention, with international tours in Denmark, Spain, the UK and the US. In 2013, the Trio was invited by the Montréal Symphony to present another concert, this time at the Olympic Park where Kent Nagano directed a performance attended by a record crowd of 30,000 spectators. In January of 2014, the Trio was invited to perform, along with renowned accordionist Phil Cunningham, at the opening concert of major winter music festival and conference Celtic Connections in Glasgow, Scotland.
The Yves Lambert Trio has succeeded in creating a true balance between authenticity and creativity that preserves the impassioned soul of Québec cultural identity while breathing an open-minded musicality into its core. Carefully plucked from the branches of song traditions, the repertoire that comprises their new release "Tentation" demonstrates just how pertinent and universal ancient themes can be, proving once again that human nature is an ageless and never-changing commodity.
Whether alone or with his musical partners, Yves Lambert is always ready to explore new creative paths, as evidenced by his participation in a wide variety of projects – folk opera "Les Filles de Caleb; "Les 12 hommes rapaillés" featuring songs from the poetry of Gaston Miron; "Mes amours, mes amis" by Québec country singer-songwriter Paul Daraîche; "The Season" with Canadian rapper Socalled; "Boisson d'avril" with Québec rock band Groovy Aardvark; music for children by publishing house La Montagne Secrète – and many more.