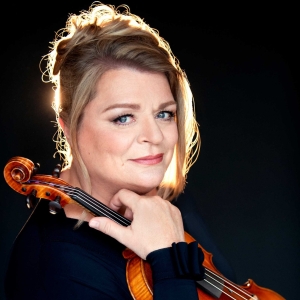 Artistic director
Angèle Dubeau
In keeping with the tradition of La Fête de la Musique de Tremblant, I will be offering a unique concert on Sunday, September 4th, surrounded by La Pietà, this concert takes the form of a musical showcase for artists that I respect and admire, and with whom I enjoy sharing the stage. Over the years, several artists have come to live this musical and friendly exchange. This year, the stage welcomes the great Daniel Bélanger, who will offer to the public his great classics with an extra classical touch. Since this year also marks the 25th anniversary of La Pietà, some of the highlight pieces of the ensemble's exceptional career will be performed.
BIOGRAPHY
Angèle Dubeau has pursued a career as a classical musician for over 45 years and has played in as many countries, always with the same passion, zest and generosity. Beyond her virtuosity as a musician, this exceptional woman has other qualities that have earned her a special place in the hearts of her audiences. While her virtuosity and musicality have won over critics, audiences adore Angèle Dubeau for her captivating music, her uncommon gift as a communicator, her generosity, and her outstanding ability to connect with listeners. She has garnered many awards over the years, and she is one of the few classical violinists in the world to earn gold records. She has sold over 600,000 albums over her career, and works from her discography have been streamed over 150 million times in over 100 countries.
Angèle Dubeau has had an exceptional career. At the Conservatoire de Musique de Montréal, she received a First Prize (master's degree) in violin at age 15, studying with Raymond Dessaints, and a First Prize in chamber music at age 16. She then moved to New York City to study with Dorothy DeLay at the prestigious Juilliard School of Music and, from 1981 to 1984, she studied in Romania with the eminent pedagogue Stefan Gheorghiu. She has won several national and international competitions.
Angèle Dubeau is as deeply convinced as ever of the need to guide the general public to a better understanding of music. She devotes herself to making it accessible by reaching across borders, generations, and backgrounds. "I like to think that music is a universal treasure that almost everyone can share," she explains. In addition to the numerous concerts she gives, this truly passionate musician communicates her love of music and culture through televised music programs for young audiences, popular concerts, and the Fête de la Musique de Tremblant, a festival she founded over 25 years ago that features Canadian artists and their works and attracts over 40,000 music lovers annually. "Contact with art opens up our senses and colours our lives," she affirms.
Driven by a desire to innovate, Angèle Dubeau founded La Pietà in 1997, an all-woman string ensemble featuring some of Canada's best musicians. What she could not have known at the time was that this experiment, originally conceived for the occasional recording, would gradually become a full-time occupation. From early on, the ensemble earned a solid reputation, playing Canada's most prestigious venues and on television. Known for their virtuosity and precision, their rich interpretations, and above all the contagious joy that enlivens their stage presence, Angèle Dubeau & La Pietà have crisscrossed the world for 25 years.